I always used to joke with my parents; "Mom, Dad …. at what age?"
At what age do you start collecting small butters and sugar packets from restaurants to take home for "just in case"? At what age do you start putting family photographs underneath glass table tops? At what age do you start humming and tapping your toes to elevator music? At what age do you start covering your furniture in old towels and blankets to make them last longer? At what age do you discover doilies? And then At what age do you lose all sense
of style and taste and start putting doilies on anything that doesn't move?
Do you get the point? My thinking was that there must have been an exact age and point in time, when although you don't feel it, a fundamental change takes place in your brain and your body, whether you like it or not, and your body stops obeying the natural rules and laws that have prevailed up to that point and you start acting … differently.
So – I'd ask and joke with my dear old Dad, a 1942 Ford Pickup, who started doing these strange things to my amusement and he just kept replying, "I don't' know, but just wait – your time will come!"
Well, I discovered the age and I think my time has come! For me it was 41.
I noticed that at around that age of 41, the natural laws of nature and functioning of my body changed, and it's all been downhill since. The hardest part of the transformation is that my mind still writes out cheques that my body simply cannot cash. I make plans and my body just laughs, and then cries out in pain for days.
I wish someone had sent a letter, e-mail or carrier pigeon warning us "weekend warriors" that change was inevitable and that there was absolutely nothing we could do about it. I think the cruellest thing is that our minds are still as sharp as blades and expect everything else to function as usual! I still see myself as a 24-year-old and my thoughts are still that of a 24-year-old, but that strange, grumpy, old, grey dude looking back at me in the mirror looks and feels like Keith Richards. It's like living in a parallel universe. I used to refer to myself as being 31 and tons of fun – but now I refer to myself as a 1965 Ford Mustang with a few k's on the clock and a couple of dings in the bodywork.
Getting out of bed in the morning happens in phases. Small movements, creaking and turning over the ignition. In the old days or "younger" days, it would start on command and instantly. Now 53 years on, not so much! There is coughing and spluttering and liberal use of the choke. The groans and aches and pains give way as the blood fills the carburetor and other vital components. I turn the key, clean the sleep and cr4p from my headlights and sit on the edge of the bed, idling and trying not to backfire. Hey I share the room with a 1973 Ferrari GT4 and I feel it only right to control the emission from my exhaust system!
I am sure most women over 40 will agree that one never really takes much notice of gravity until it starts playing havoc on your body parts. When you have to buy firming creams and lotions, supportive underwear and clothing, you know that gravity is not a myth and that life does truly suck! It sucks southwards relentlessly, every day, and in every way!
It seems amazing that before "the age", (it varies from person to person but my research tells me the time usually comes anywhere between 38 to about 45) everything in our lives seem to be about being, UP! Just listen to kids and young people it's all about: getting up, climbing up, staying up, being up, feeling up, growing up, living it up, keeping up and then suddenly "it" happens and it all becomes about down. Settling down, quieting down, sitting down, slowing down, calming down, having a lie down, downtime, downgrading, down scaling, downsizing, downhill, downward trends and most body parts start a downward slide.
The first time I noticed that I might need glasses I was standing in an underground tube in London and couldn't read the giant map on the wall clearly. I must be honest – my initial thought was, "I'm going blind?" 
And I had been warned by an elderly gentleman that your hearing doesn't go altogether. You're still able to hear clearly it just seems that the direction finder of where the noise is actually coming from goes on the fritz. This results in me looking around like a special needs person in an attempt to identify exactly where the noise is coming from. Looking around a lot like a lost fart in a perfume factory for the source of the words, I finally discover that the "daddy, daddy, daddy, over here" is actually coming from a condescending teenager, fiercely flapping her arms in the air as if she is bat man parking an aeroplane at OR Tambo only two feet away. This is all done to the amusement of the 21-year-old 1997 Golf GTi, her sister the 2000 Mini and their mother the 1973 Ferrari GT4, to which I can only smile and say, "just wait, your time will come!"
Revenge though will be sweet because the '73 Ferrari GT4 is closing in on the age and her time, and I'm gonna remind her of all the jokes, quotes and one liners she's enjoyed at the expense of this African Grey.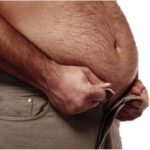 But I digress. At what age, does gravity start winning and when do you put on weight by merely thinking about food? Before the age, I could eat what I wanted and even if I put on a few kilo's, a few weeks of rigorous exercise had me lean, mean and buffed. But after "the age" everything seems to work backwards, and 6 months of exercise and eating correctly actually had me put on 8 kg!! Exercise seems as much fun as sitting through an episode of Master Chef or staying up later than 22h30.
Everything hurts and it takes 10 times longer to recover and does absolutely nothing to reduce the spare tyre around my waist that I did not order, have no idea where it came from, and have to carry with me every day. My knees buckle but my belt won't, and putting socks on pushes the tyre into my diaphragm and lungs when I bend over. This makes it impossible to breathe, so you'd better be a formula 1 sock changer or get a pit crew to rotate your footwear.
I actually pulled a muscle in my foot the other day. No it wasn't a car crash or karate injury I got it "pulling off" … to walk. Yes walk! Not a marathon or a speed walking race. I was waiting for the bus on the apron after getting out of the plane, I tried to take one step and …. I limped home. What is this deal and how bad will it get if you now can pull muscles from just taking a step ?
I was speaking on the phone the other day to a 1965 Shelby and before I knew it an hour had passed and all we'd done was complain about life and compare our medical histories. At what age did this cr4p start happening?
I then had a chat with my Dad to bring some joy to his life when I admitted that my time had now indeed come, exactly as he had predicted. I asked him if this was it, or if there was another age when things began to fall apart even further? He sat me down as only a caring elder could. It took I while because he had to first put his glasses on to find his glasses. He seemed unable to hear me without putting them on, and then looked at me, perhaps also lip-reading a bit, which became a skill after his direction finders went! He smiled a … I told you so smile and said "It's just the beginning. Welcome to my world. I told you your time would come, and it only gets worse! In fact just the other night your mother said Honey let's go upstairs and make love and I replied, one or the other, I can't do both!" He also told me his favorite adult movie is Debbie does Dialysis, and apparently it will now take longer for me to rest than to get tired.
So my time has come, and fortunately I was aware and lucid enough to note the exact time and I now know at what age, and it happened just like my dad said, "your time will come!"
For some of you, your time is still to come and when it does, see me as being from your future. Some of you have had the time, and have already gone through it, coming out on the other side older, slower but wiser. I look forward to your lessons and remedies.
My 17 year old Bugatti was looking through my phone numbers the other day and said, "Dad you're not sick – so how come you have so many doctors numbers on your phone?" I just smiled and said "because everything that works, hurts and what doesn't hurt, doesn't work". 
"When does that start Dad?" he asked. "It's different for everyone my boy, but some day your time will come!
It's now "our time" to take a break after a great year. Travel safe if you're going away, and have fun with your family and friends no matter where you find yourself over the festive season. It really doesn't matter what time you are in, enjoy it all as being part of this interesting thing called LIFE. As long as we are surrounded by loved ones and we can still spot our family in a crowd, we're okay.
Gavin, Sam and the rest of the Sharples crew