My Everest cake for 2018 was to work out every day for 365 days, no breaks, and definitely not missing a day. It was a tough bake but I put the final touches of icing on it on 31 December 2018.
Everest cakes come in all shapes, sizes, flavours and textures, but no matter the individual preferences they are all very big and important to the baker. So, no matter what your preference, here are the ingredients and cooking instructions for your Everest cake.

INGREDIENTS
1 x fresh WHAT. I prefer a "WHAT" that I know will change my life for the better. A few years ago, it was a better relationship cake with my wife. I made a fantastic money cake a few years back, so much so, that we ate it all and needed to make another and another. You may choose a health Everest cake – like I did last year – or a 4 tier new qualification cake. Whatever you choose, make sure it's something that you can really get your teeth into. Your WHAT is very important.
1 x ripe WHY. A reason, a tangible reason to bake the cake. A payoff. A reward. Most rewards are tangible and physical but more important than rewards are the results that we get that are intangible. The things like; self-respect, being a person of your word, making a difference, self-like, self-love, self-pride, self-improvement. Niche said "If you know WHY, you will endure any how".
365 x portions of never quit, never give up, never ring the bell attitudes.
30 dozen Mulligans (these are daily do-overs).
1 x accurate measuring system. I use coloured marbles in a clear glass vase so I can see them.
1 x action plan of activities that you must do every day.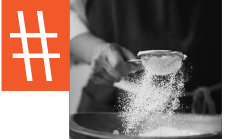 METHOD
Take your WHAT and slice it up into simple steps.
Now take those steps and dice them up into weekly actions.
Then take those diced up actions and grate them all over the week.
Bring your WHY to a slow boil in the back of your mind. It is very important that you never lose sight of your WHY. Put a reminder on your phone, next to your bed, on your desk, on the fridge, and remind yourself every day to never take your eye off the WHY.
Do one task every day for a minimum of 40 to 60 minutes each day that will move you closer to your WHAT. Go for a walk, do a gym session, make a phone call, write one page of the novel, tell her you love her every day, make the extra sales call, reconnect, discover, read, study, practice.
Now spoon in one heaped Mulligan (a do over) every day. And increase the intensity. Some days turn the heat up, on other days cook low and slow. Rest it for 24 hrs and repeat the process.
After every bake, place one marble (lego block, pebble etc) into a jar and make sure you fill the jar to the top.
Now mix it up. Never let things get stale. Change the activity slightly so you keep it fresh and different.
Give it air. Tell people want you are doing. Let them know so they can support you.
The final vital ingredient is good dose of DON'T QUIT. When you don't see results or when you are tired – you don't stop. When you are tired or lazy or just don't feel like it, you can only quit when you are done and not a second sooner. Like kneading bread, it takes effort and non-stop dedication.
SPECIAL INSTRUCTIONS
If anything burns, (and it will) scrape off the darker bits, let it rest for 24 hrs and then place it back in the oven, and let it cook low and slow. If the burn is too bad – leave it to rest for longer and work on another part of the recipe until you can start again. Never stop cooking and never miss a day. Never. Ever.
This Everest cake works for all areas of your life. Love, relationships, your career, finances, fitness, spirituality, family and personal growth.
Here's to many successful meals, cakes and deserts for 2019. And remember if you can't stand the heat, buy a fan, put in an air conditioner, slow it down, but keep on cooking.
We love to get your comments and "LOVE" if you enjoyed the post. Click the red heart at the top of the page please.
IT'S A SOCIAL MEDIA THING!
Like us on Facebook HERE.
Follow us on Instagram HERE.
Do you need an extra cup of motivation in the morning? Get your FREE daily dose by doing the following:

Save 083 303 2229 to your contacts / phone book as Gavin Sharples
Send 'your name' on a WhatsApp message to that number

In this broadcast group, members can't see each others comments or replies so there is no chatting / interaction with other members here
Replies and responses are always welcome