One afternoon it began to rain and mom was in the kitchen. The kids, (our kids) automatically packed up their games and ran inside. To their amazement I asked why they were coming inside. Naturally they responded,"Because it's raining". I told them that it was only water and I assured them that they wouldn't melt if they played in the rain. This was met with astonishment and big eyes, just like my wife on our wedding night.
"But mom will shout at us!" said one of them. "Yes, and we will get into trouble!" said another, and the third just looked at me in total astonishment. "I'll
 take care of your mother"  I said, "Would you like to run and play in the rain?"  There was a slight hesitancy in their enthusiasm until I opened the door and stepped out into, I must admit, a slight drizzle. Just like the very caring mother, that she is, Samantha (mom) – appeared out of the ether like only mothers can when her ducklings are in danger. "No, they are going to get sick and ruin their clothes, and besides there's lightning". She had me on the lightning thing so I made them a promise that the next time it rained without lightning we would all go and play in the rain.
Fast forward 2 weeks. I'm sitting warmly in my lounge, with a nice hot cup of coffee, watching the game. It's pouring with rain outside. My son runs in and reminds me of my promise. What's the last thing that I feel like doing right now? But a deal is a deal, a promise is a promise, and there is no lightning this time! I opened the door and the 4 of us charge into the rain like a politician into a tender office.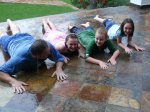 We did the rain dance, we sang, we rolled and jumped in puddles, we danced, we played, and then we jumped into the pool. We swam in the rain until our fingers turned crinkly and Madison's lips turned blue. Mom thought we were mad at first but then, knowing me, she took out the camera and created a memory of the event. Afterwards, the hot shower, the feeling of putting on warm clothes, the hot chocolate and all four of us snuggling on the couch, was the best feeling in the world.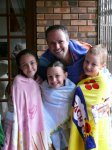 Funny thing – kids remember what you did with them, and hardly ever remember what you bought them or what it cost.
Love is an ACTION; every time we "DO" we demonstrate our love.
I created an "I Did It with My Dad!" list on behalf of my children. Whenever anyone meets my kids and asked where they learnt that skill or who took them to a place I want them to always be able to say … "with my Dad!"
Some of the things already ticked off on the list include, I went fishing with my dad, I danced in the rain with my dad, I played soccer with my dad, I shot hoops with my dad, I wrestled with my dad, I saw the new Twilight movie (the midnight show) with my dad, I went to the theatre with my dad, I went to London with my dad, I went on a wet bike with my dad, I went to work with my dad, I surprised my mom with my dad, I visited a pie making factory with my dad, I rode bikes with my dad, I played Wii with my dad (and I won – he could never beat me), I said prayers with my dad, I climbed on the roof and watched the stars with my dad, I visited an orphanage with my dad, I learned to drive a car with my dad, I went on a road trip with my dad, I swam in the sea with my dad, I baked a cake with my dad, I played cricket, netball, basketball, rugby, Uno, cards, poker, monopoly, … with my dad.
It's Father's Day this month. I believe it should be called Daddy's Day! I honestly feel that any man can be a father; it doesn't take much skill, but it takes a Real Man to be a Daddy!
Its quite simple – Real Dads are supposed to be the rock of the family. Children (and to a certain extent women), look to Dads for strength; support; love; protection; guidance and fun – yes, fun!
"LIFE IS NOT ABOUT WAITING FOR THE STORMS TO PASS …

IT'S ABOUT LEARNING HOW TO DANCE IN THE RAIN"
Last year I wrote about my Dad. If you are blessed enough to still have your dad around, give him a hug for all of us who have lost ours. This year I want to remind you to be a Daddy and not a father.
INSTANT FUN – JUST ADD DAD
Dads spend the time, and they make the time, because Dads know that women and children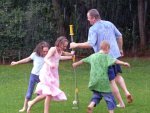 spell the word love, T.I.M.E. If you spend the time, they will feel the love. I never really have to address the issue of mommies, because we have so many good ones around. It's because of them that this entire world isn't hell on earth. But we need more Daddies. So, Mom's – if you have a real Daddy in your life, not yours but one sharing your life with your kids, and not just a biological seed depositor – count yourself extremely lucky! Just ask any Mom doing it on her own because of a dead beat sperm donor that left her alone and in debt, how lucky you are.
Daddies support and love their family without conditions.
Daddies place their families first.
Daddies keep their promises.
Daddies are firm when they need to be, they give guidance when they should, but they know when to discipline.
Daddies know that a child without discipline is lost and will battle in life.
Daddies set the moral compass and lead by example.
Daddies create an environment of trust and openness, honesty and fun.
Maybe, just maybe you might want to start an "I Did It with My Dad" list on behalf of your children, and start filling it. The good news is it never gets finished.
Ladies, send this to a whole bunch of men in your life.
Happy Dads Day for Sunday
Daddy Bear (Gav)