HERE'S THE THING!
So, I'm standing in an airport bus, minding my own business and some halfwit right next to me is shouting into the phone about what the client said in a meeting. I thought, "Hey chop, can you dial it down please? And all 40 people in the bus don't want to know about your flippen day."
The traffic light turns green and Mr. Head-up-his-rectum doesn't move because he's on his phone. Joe Idiot is doing 40 k's in the fast lane because he's texting and "driving" at the same time.
I'm in a movie and Mr. and Mrs. Senior Citizen chat the whole way through the movie until I get up and politely tell them that I will move so that they may continue their conversation.
Mr. Few-crumbs-short-of-a-piece-of-bread gets to the top of the escalator and just stops at the top so he can decide in what direction he wants to walk. Never mind the 20-people smashing into each other behind him as the stairs keep pushing them off. Stopping at the top of an escalator to decide where you want to go should get a "flatty" on the back of the head.
Don't get me started on neighbors, personal body space, hygiene, and people who burn trains because they don't arrive at the station on time.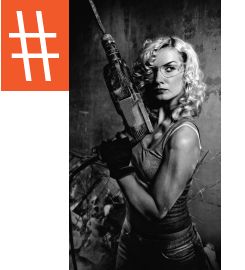 THE HOW TO
Courses could cover subjects like:
Respect
You have to pass a test showing you understand that queuing in a place or in traffic is a mark of a polite, ordered, civilized society that respects a first come first serve philosophy. And that no matter who you are, you wait in the line for your turn. And if you are one of those people serving the people waiting in line – wake-up, do your job efficiently, be polite and helpful or everyone in the line is each given 1% of your salary.
Time Management
You will learn that when you are late for anything, it shows that you have no respect for the people you made wait for you. We teach them, that when you are late, you tell people that where you were was more important than where you should have been. If you are late you chose to be late. If it were important enough, you would have made it on time. And don't add insult to disrespect by blaming traffic! Oh, really Sloth Boy, how do you think we all got here on time, teleportation? We took the same roads you did Tardy Terrance – only earlier.
Oh, and a special extra little course should be made for medical "specialists" and lawyers. You know the God complex individuals who keep you waiting in their reception area for hours and even take phone calls duringyour appointment.
Listening skills
Saying "sorry" or "excuse me" as a standard reply to anyone who speaks to you, even though you heard what was said – is punishable by having your eyebrows removed with a grinder. Stop talking, texting and multi-tasking and just listen!
Spam
Spam marketing in any shape or form should force the spammers to watch the Sharks play rugby. And if I'm forced to waste my time to click on "unsubscribe", I don't want to be directed to a site and interrogated as to why, and would I reconsider staying on a list I never authorized to be on in the first place. And no matter what I do, I still get the spam every month no matter how many unsubscribes I press. These chancers should be given season tickets to watch the Blue Bulls.
Selfishness, rudeness and just plain stupidity
Anyone not putting their weights away at the gym should have their membership revoked immediately and be made to clean the gym toilets for a year.  Then, to those men and women who walk bare bum fully naked in the change rooms – "hey Bo Brummel put some pants on". Nudity doesn't offend me, but why is it that it seems to only be the most hairy, fat, old and wrinkly people who insist on walking around in croc's and socks. I am a little sick of having to stop myself from throwing up every time I go to the bathroom. Read the rules of the gym and the sauna. It clearly states that you need to use a towel and put some flippen pants and a bra on Mrs. Tubby Raisin.
Don't use or drink what is not yours at work. That should get you time at the financial conference where you are forced to listen to all the spreadsheet presentations.
Social Grace
"Hello how are you?" is not a question, it's a greeting, so don't give me the full medical report because no one is really interested.  Your kids are lovely and adorable to you. No one else gives a toss. So when I ask how your kids are, "they're fine" will suffice.
Driving
When turning left – turn left; don't circle to the right to go left.
Park straight and don't take up two spaces, the white lines are a clue.
Put your frikken phone in the boot when you're driving.
Going over a speed bump at an angle, makes no difference to the average speed bump, but it does cause 20 people behind you to have an apoplectic rage fit.
Okay so there are too many for driving, so just wake up!
Most importantly, voting
Unless you can sit and pass an exam on how our constitution works, governance and the importance of holding politicians accountable, you are not allowed to vote. If you vote for idiots to run your country, you will get the government and the results you deserve. And when you do qualify to vote you get a 10% discount on your income tax when you actually vote.
I feel better now!
TROUBLE SHOOTING
Who wants in on my new school?

Dying to hear your inconsiderate citizen rants and possible course ideas.